Disney Princess Birthday Party Ideas
Disney Princess is a very popular party theme among young girls. Disney Princesses have always captivated young girls' minds with their story, songs, beauty and dreams. It started with Snow White in 1937 and Disney has continued to fascinate young girls Disney Princess is a very popular party theme among young girls. Disney Princesses have always captivated young girls' minds with their story, songs, beauty and dreams. It started with Snow White in 1937 and Disney has continued to fascinate young girls
Disney Princess is a very popular party theme among young girls. Disney Princesses have always captivated young girls' minds with their story, songs, beauty and dreams. It started with Snow White in 1937 and Disney has continued to fascinate young girls all over the world with the story of the beautiful princesses, such as Cinderella, Aurora, Ariel, Belle, Jasmine, Pocahontas, Mulan, Tiana and the most recent of all Rapunzel. These princesses represent innocent childhood dreams and little girls would love to share in the magical wonders of their worlds! If your little girl loves Disney Princesses, why not make her dreams come true and throw her the best Princess Party that she will remember for many years to come.
Our Disney Princess Party Ideas will help you put together an enchanting birthday beyond your little girl's wildest dreams.
Disney Princess Party Invitation Ideas
A Royal Celebration! Invite your guests to your Princess party with enchanting invitations, so they can't wait for a day filled with princess magic. Get them in
into a fairy tale birthday mood with these pretty Disney Princess Dreams Invitations
These invitations open up to reveal spaces to write your party details. Put in an extra royal touch by adding Disney Princess Confetti into the envelope and seal the envelope with Disney Princess Stickers.
Disney Princess Party Costume and Dress-Up Ideas
For your little girl to feel like a princess in her Princess party, of course she needs to dress the part! There is no better way than to dress her up as her favourite Disney Princess. You could buy a Disney Princess costume from stores as they are widely available or you could make it yourself. You don't need to exactly sew it from scratch if you don't have the time or if you are not exactly a dress maker! You could simply buy a dress (such as a flower girl dress) from your local charity shop for a very minimal cost and add some accessories such as flowers, ribbons or glitters to make it sparkle. It will be a fun activity for you and your little girl to decorate the dress together, so she can input her own ideas and creativity into it. Add a Disney Princess Guest of Honour Ribbon to make your little girl feels extra special. Don't forget the tiara, pearls and feathers.
To add to the ambience of your Princess party, encourage your guests to dress up as their favourite princesses and the boys can come as princes.
Disney Princess Party Decoration and Party Table Ideas
Make your little princess' dreams come true by decorating your place into an enchanted royal ball! Imagine the faces of the birthday princess and her little guests when they step into a grand royal ball. Start with Disney Princess scene setter to transform your place into a princess ballroom, add Disney Princess Banner, Dangling Cutout Decorations, latex and foil/helium Balloons, crepe streamers and curling ribbons.
For a table fit for a princess, drape it with this pretty Disney Princess Dreams table cover which features favourite princesses, Cinderella, Aurora, Ariel, Tiana, Snow White and Belle.
Place a Disney Princess Fanciful Table Centrepiece in the middle of the table.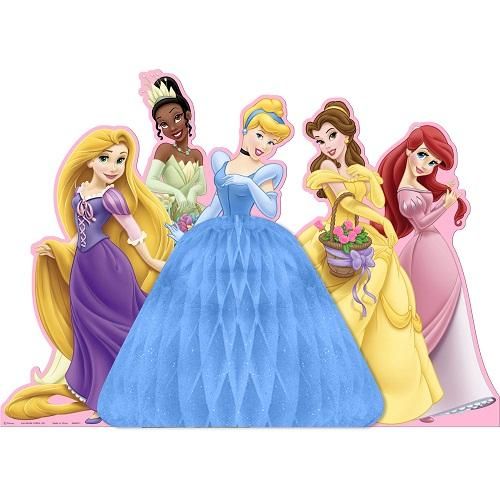 Tie a bunch of balloon onto Cinderella Balloon Weight and place it in the middle of the table. Let them dine in style with these pretty
Disney Princess Dreams Lunch Plates and matching Napkins, Cups and Cutleries.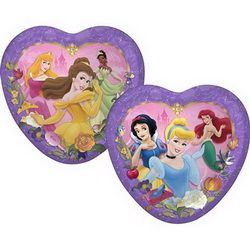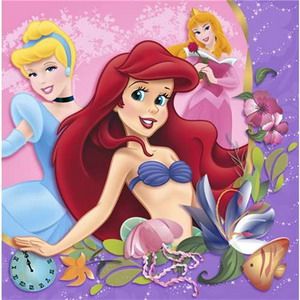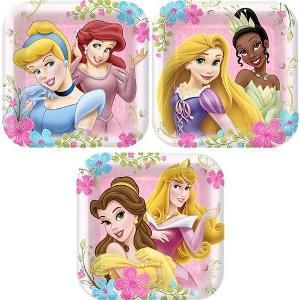 a Candy-Filled Crystal Shoe and a Pink Bubble Wand on each plate setting.
Disney Princess Party Favour Ideas
Send your guests home happy with our Disney Princess party favour ideas. These great Disney Princess themed souvenirs are the perfect way to say thanks for coming to your fairy tale party.
To impress your guests, simply fill Disney Princess Fanciful Treat/Lolly Boxes or Disney Princess Dreams Treat Bags with lollies and Disney Princess themed treasures such as these extra special Disney Princess Fairy Tale Lip Gloss, Disney Princess Dreams Stickers, Disney Princess Jewelled Rings and Pink Bubble Wands.
To make the table glimmers, sprinkle on some Disney Princess confetti and glitters on the table. To add more wow, place a Disney Princess Blowout,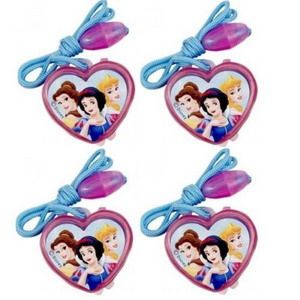 You could also amaze your guests by filling Disney Princess Cups with party favours and lollies, wrap the cup with clear cellophane and tie the top with pink or purple curling ribbon.
Disney Princess Party Food and Treat Ideas
Make your Princess party a success by serving a royal banquet! Your little princesses and princes will be famished after running around, having fun and adventure in your splendid Princess party. Our Disney Princess Party food and cake ideas will help you create a banquet fit for a princess!
1. Disney Princess Cupcake Castle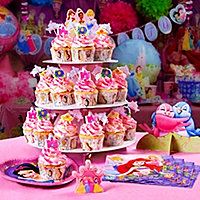 Your little guests will love pretty cupcakes decorated with sprinkles and cupcake rings. Bake your little princess favourite cupcakes in Disney Princess baking cups and decorate them with sprinkles. To wow your party guests, decorate them with Disney Princess Jewel Cupcake Rings, Disney Princess Cupcake Décor Placs or Cinderella Party Toppers and arrange them on a Disney Princess Cupcake Stand to create a cupcake castle. This is guaranteed to be the talk of the party.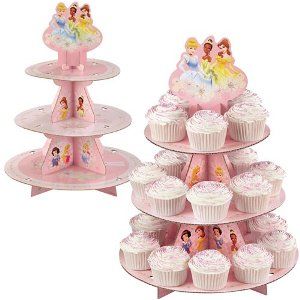 Create a fun and creative activity for the birthday princess and her guests. They will love to decorate their own cupcakes. Prepare cupcake decorations such as sprinkles, icing flowers, marshmallows and Disney Princess Cupcake Rings also set out some Disney Princess Dessert Plates for each child to work on. Have plenty of Disney Princess Napkins handy for messes.
2. Cinderella Pumpkin Soup
Hollow out a big pumpkin and fill it with pumpkin soup. To make a pumpkin soup you will need a large butternut pumpkin, a potato, a carrot, one or two cloves of garlic chopped finely, one brown onion chopped finely, approx. 1-2 litres of chicken stock, oil. In a big pot, pour in oil when heated put in finely chopped garlic and onion. Then put in chopped pumpkin, potato and carrot then pour in chicken stock, cook to boil and until all ingredients are cooked and soft, season with salt and pepper to taste. Then puree with a handheld blender.
3. Princess Heart Sandwiches
Fill sandwiches with jams, cream cheese, peanut butters, cheese or any filling of your choice and cut them with heart shaped cookie cutters.
Disney Princess Party Birthday Cake Ideas
No birthday party will be complete without a birthday cake. If you decide to bake a birthday cake yourself, these ideas will help you create a spectacular birthday cake for your little princess.
1. Edible Icing Images
For an easy professional finish, nothing can beat edible icing image cake decorations. The application is very simple, simply remove it from its backing and apply it on your iced cake. For more details please see our article about Edible Icing Removal and Applications. For your Disney Princess birthday cake, choose an edible icing cake decoration with Disney Princess images such as this beautiful Disney Princess Edible Icing Cake Decoration, which features three favourite Disney Princesses, Cinderella, Aurora and Belle. It will look absolutely splendid! If your daughter has a favorite princess such as Cinderella, Ariel or Aurora, why not centre the birthday cake around it by choosing such edible icing images as Disney Princess Cinderella Edible Icing Cake Decoration or The Little Mermaid Ariel Edible Icing Cake Decoration.
2. Disney Princess Doll Cakes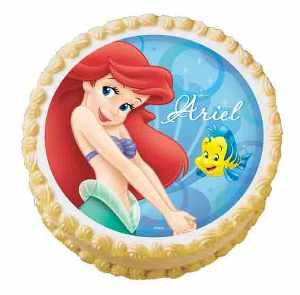 Disney Princess Doll Cakes will absolutely please the birthday princess and her friends. They look just like the Princesses themselves. Creating a doll cake is of course harder than simply applying an edible icing image onto a cake, but the result is obviously more spectacular. You can bake a doll cake or two in addition to the standard birthday cake to delight the birthday girl. Select from these stunning Belle at the Ball Petite Cake Decoration, Aurora Magical Splendor Petite Cake Decoration or Cinderella Simply Enchanting Petite Cake Decoration Kit.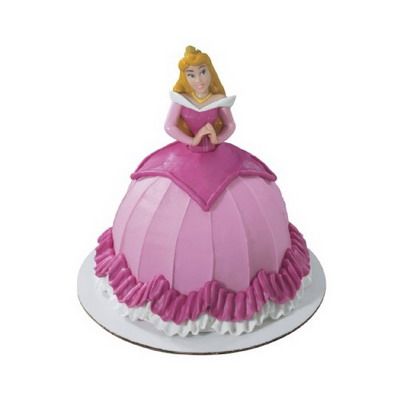 3. Disney Princess Castle Cake
Blow your little girl's mind away with this great princess birthday cake idea. This Disney Princess Castle Cake Decoration Kit comes with a cake cutting and decorating instruction so you can replicate the cake pictured. The kit itself includes a princess castle carrying case and four princess figurines, which can be used as toys after the cake is eaten.
4. Disney Princess Cake Toppers
Another simple and easy way to decorate your princess cake is by using cake toppers. Ice your cake and decorate it with icing as you wish and simply top your cake with Disney Princess cake toppers such as Disney Princess Light Up Decoration Kit, Disney Princess Garden Royalty Cake Decoration Kit or The Little Mermaid and Flounder Cake Decoration Kit.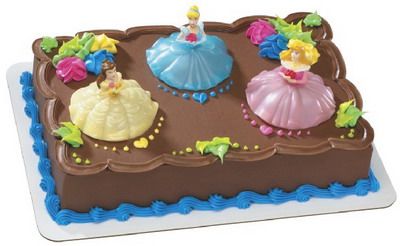 After you are done with the important birthday cake, don't forget the birthday candle. Disney Princess themed birthday candles such as the Disney Princess 3D Candle and the Cinderella Dreamland Molded Candle, will be perfect to complete your princess cake. These candles can also double as cake toppers.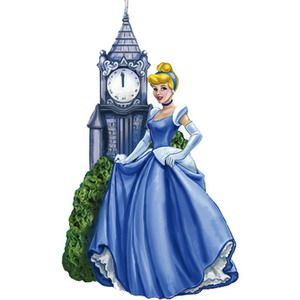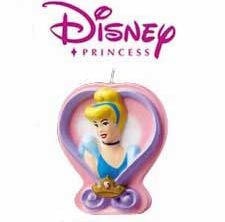 Disney Princess Games and Activity Ideas
Make your little girl's Princess Party fun and alive with our Disney Princess Games and Activity Ideas.
1. Disney Princess take of the Pin the Tail on the Donkey Party Game
The birthday princess and her guests will have fun playing with this new take of the Pin the Tail on the Donkey party game. Instead of pinning the tail on the donkey, they need to stick a princess sticker in the empty window of the tower! Hang the castle poster on a wall at a convenient height for all guests, blindfold them as they take turns to place the sticker.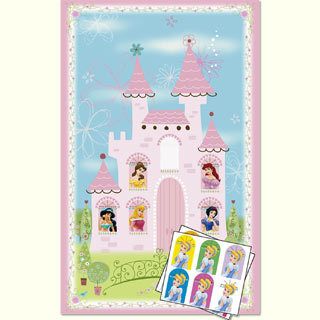 2. Disney Princess Treasure Tower Party Game
Disney Princess Treasure Tower is another great game for a princess party. The Disney Princess Treasure Tower Party Game is a fantastic idea, it is a table centrepiece, a pinata and a party game all in one! Fill it with treats and favours and each kid can take turn to pull the tabs until the treats are released.
3. Snow White Apples Quest
Hide several plastic apples for the kids to find. Hand them a small plastic bucket to place the apples they find. The one gets the most apples win.
4. Princess Beauty Station
For such a girly occasion, why not set up a Princess Beauty Station. Firstly, drape a table with Disney Princess Table Cover. Fill several clear plastic bowls with bottles of nail polish in different colours, pink blushes, glitters, stickers, hair brushes, hair bands and clips and lipglosses, Disney Princess Lipgloss Necklaces would be perfect for this. You could arrange for a mirror as well, but take care that it is placed in a safe place so it is not knocked over. Help the girls with painting their nails and braiding their hairs. Let the girls have fun experimenting with different colours and make up.
5. Princess Fairy Tale Story Time
Have a volunteer dress up as one of the Disney Princesses, gather the kids around to listen to her reading Disney Princess stories.
6. Face Painting
Kids love having their face painted. You can hire a professional kids face painter to paint the kids faces and request her to dress as one of the Disney Princesses.
Disney Princess Thank You Note Ideas
Send thank you cards to thank them for coming and to let them know how much fun you had with them. You can make it extra special by taking a picture of each guest with the birthday girl or a picture of each guest with the birthday girl posing with the opened gift the guest brought and slip the picture inside a Disney Princess Dreams Thank You Card.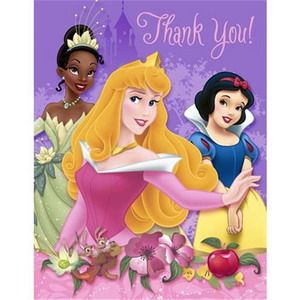 ---
Leave a comment