Sesame Street Elmo Birthday Party Ideas
Let's face it, there is hardly any kid out there who is not in love with Elmo and his other Sesame Street friends. The fad has absolutely taken over kids for years. The best part is that it is not something that has shot up recently like Harry Potter or T Let's face it, there is hardly any kid out there who is not in love with Elmo and his other Sesame Street friends. The fad has absolutely taken over kids for years. The best part is that it is not something that has shot up recently like Harry Potter or T
Sesame Street/ Elmo Birthday Party Ideas
Let's face it, there is hardly any kid out there who is not in love with Elmo and his other Sesame Street friends. The fad has absolutely taken over kids for years. The best part is that it is not something that has shot up recently like Harry Potter or Tinker Bell, instead it is a legendary fad like that of Transformers and Star Wars that has captivated minds of the young ones for than two decades now. It is astonishing to see how Elmo and his Sesame Street friends can entice kids even today.
Of course, with such an influential impact, you cannot simply ignore the fact that opting for an Elmo/ Sesame Street birthday theme is something that can enthral your kid isn't it? Therefore, if you are someone who is looking forward to Elmo/ Sesame Street Birthday party ideas then here are a few tips to make your party even better:
An Elmo/ Sesame Street Themed Birthday Cake:
As we all know, the cake is the first thing we all think of as soon as a party idea boggles the mind. But, when it comes to Elmo everything becomes so easy. Why? Simply because Elmo himself is a cake-looking buddy. Yup, you got it right. The best way to add that much needed excitement to your Elmo party is to have an Elmo cake made for your kiddo. A red or blue cake to cookies as his smile, chocolate as his nose and jelly as his eyes can make your kid all excited. Now, isn't that something you would want? To make it even easier, you could create an Elmo cake using an Elmo Cake Pan by Wilton. This cake pan is very easy to use and comes with a step-by-step instruction of how to decorate the cake. The result is simply satisfying and very professional looking. Imagine the birthday child's delight when he/she looks at this adorable Elmo cake! This is an example of the finished Elmo Cake provided by one of our customers.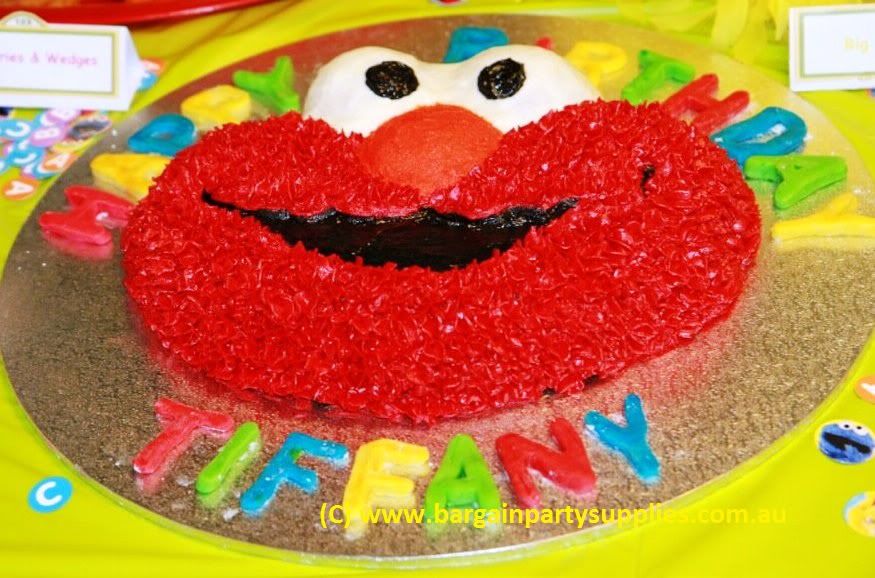 If you don't have the time, you could create a professional looking cake by simply using an edible icing image. You just need to bake a cake or buy a cake from your local bakery, ice it and apply the edible icing image on top of the cake and voila!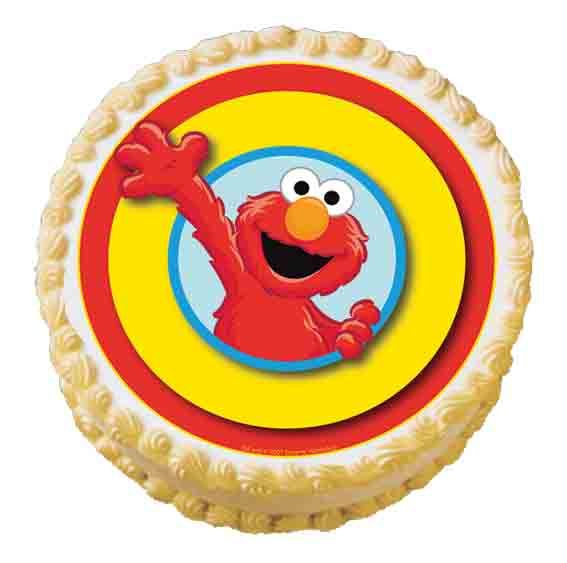 Another great and easy way is to purchase a cake topper or cake decoration kit. Most of them could be used as a toy after the cake is eaten, which is a bonus.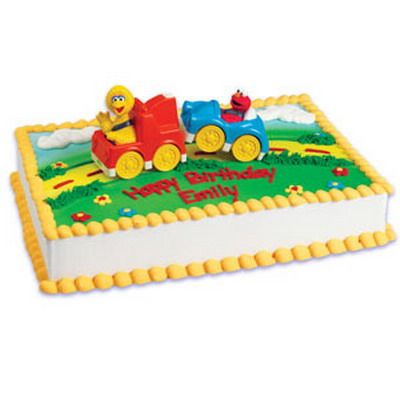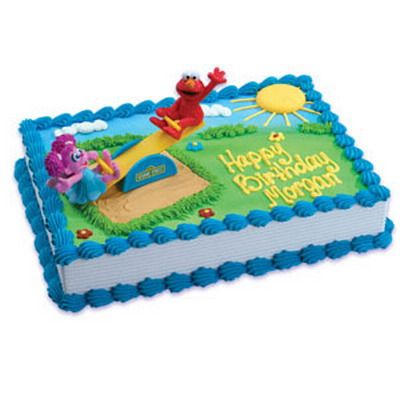 Elmo/ Sesame Street Birthday Candles:
Finally, when everything is ready, it's time to buy the most appropriate candle for the cake. To match your Elmo/Sesame Street theme, instead of topping your cake with a plain number candle, why not add an Elmo or Sesame Street characters candle on the cake to complete the show. Today, there are different types of Elmo/ Sesame Street candles available, some are even in Elmo's, Big Bird's or Cookie Monster's form. If you can get your hands on an Elmo or the other Sesame Street characters candle then it would be the perfect candle to top your Elmo/ Sesame Street themed birthday cake.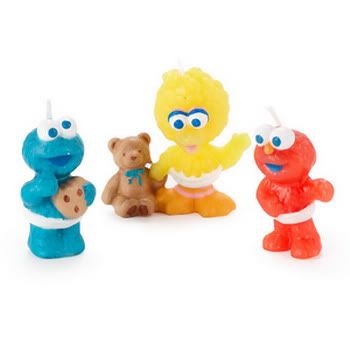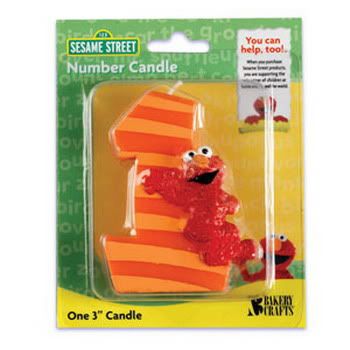 Sesame Street Party Foods and Drinks:
Besides the birthday cake, if you decide to prepare the foods and drinks yourself, here are some tips to prepare kids friendly Sesame Street themed party foods and drinks.
Guess How Many Fish in the Bowl
You need a clear plastic bowl and fish shaped crackers or biscuits, you could also replace it with breakfast cereals such as breakfast rings if you cannot find fish shaped crackers or biscuits. Simply place the crackers in the bowl, you need to count them first, so you know how many are inside. Then to decorate the bowl, you could print in colour a picture of Elmo and his fish best friend Dorothy, cut it and stick it on to a thicker paper or paperboard and tape a skewer at the back of the picture and stick it on the bowl. Your guests then could guess how many fish are on the bowl. The winner gets a prize. Of course, your guests are allowed to eat the crackers too, so this is a fun game for the kids and adults and also double as party food!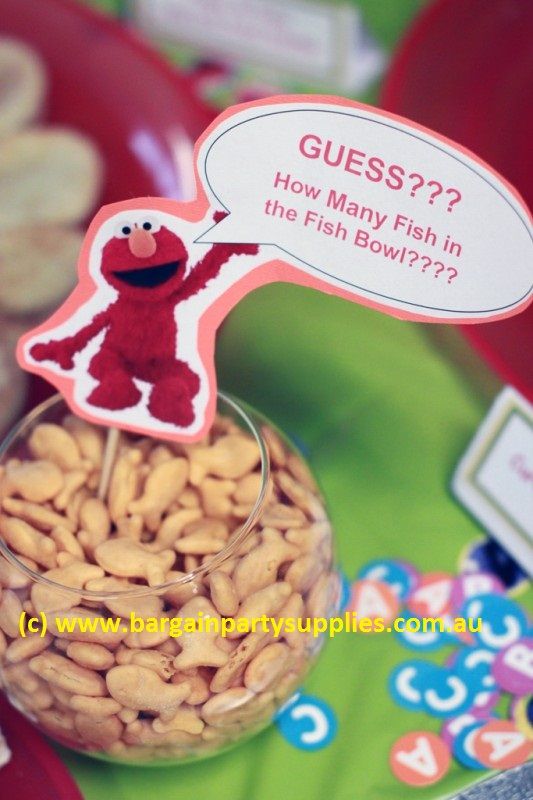 This is a great drinks to serve to your party guests, it is also healthy for the kids, not too mention a great and interesting decoration for your party table!
You need the following items:
- To decorate the bowl: a punch bowl, a yellow feather boa, please measure so it fits the rim of your punch bowl. a pineapple, a banana, an apple, two blueberries and skewers
For the base, cut the top, bottom and sides off a pineapple and place it in the middle of the punch bowl. For Big Bird's eyes, stick two skewers into the top of the pineapple and add half of an apple to the top of each skewer with a blueberry in the middle of each. For the beak, peel a banana and cut it to represent Big Bird's beak as pictured below. Wrap a yellow feather boa around the bowl to create Big Bird's feathers then you are ready to fill it with the punch.
- The punch recipe: 1 little of orange juice, 500 ml of pineapple juice, 500 ml passionfruit juice, 1 can of lychees and orange slices and pineapple slices. Combined all in the bowl and add some ice or chill.
You could add these cute Elmo cherry tomatoes in your salad and call it Elmo Salad. For a step-by-step instruction of how to create these adorable Elmo cherry tomatoes, please visit cookinggalleryblogspot.com. Obviously you don't need to place them in a skewer, you could scatter the Elmo cherry tomatoes in your salad. However, these Elmo cherry tomatoes in a skewer will also make a healthy party snack for the kids.
Note: Photo courtesy of cookinggalleryblogspot.com
This cupcakes are super cute and they look fantastic on the party table.
You could use store bought cupcake mixes or your own trusted recipe. Simply decorate the cupcakes with icing. Please read our article regarding Buttercream Icing Recipe by Wilton if you are interested to make your own. Then place Sesame Street cupcake rings on top to decorate. Place the cupcakes on an Elmo Cupcake Stand for an impressive look.
Elmo/ Sesame Street Balloons and Decorations: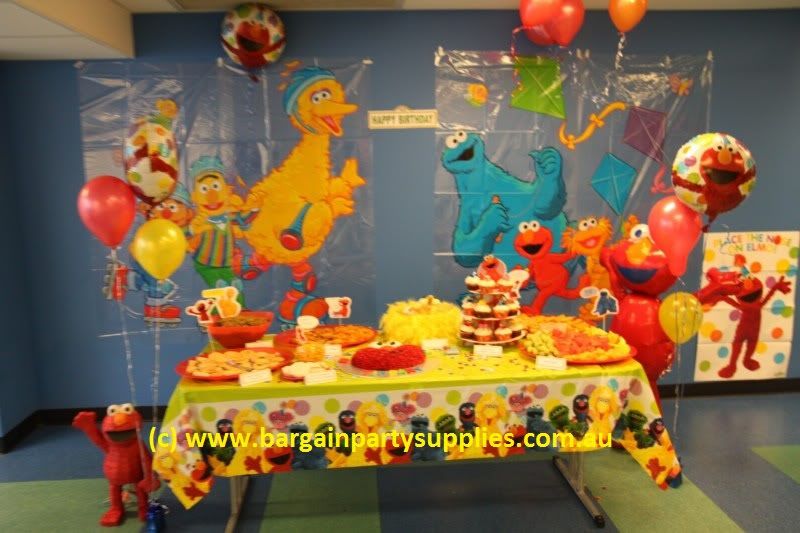 Kids absolutely love balloons. Luckily, today we have Elmo, Big Bird, Cookie Monster and other Sesame Street friends shaped balloons out there in the market. They are available in different styles and sizes. To add more oomph to the party, a Sesame Street character Airwalker Balloon such as Elmo Airwalker balloon or Big Bird Airwalker balloon which looks just like the real Elmo or Big Bird would be the best choice. Kids could take photo with them or could play with them in the party. It's just like the real character itself invited to the party.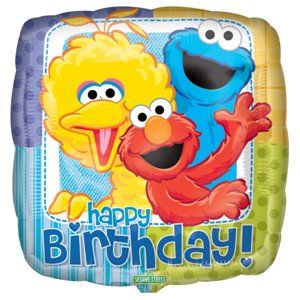 Elmo/ Sesame Street Tableware:
To enhance the atmosphere of your Elmo/ Sesame Street themed party, it is necessary to get a matching Elmo/Sesame Street themed paper plates, cups, napkins and table cover. Without proper paper plates and cups, your party will not have the charm it should have. Elmo/ Sesame Street themed tableware come in different designs, colour combinations and shapes. Getting these colourful tableware will not only fascinate the kids but also adds to the tone of the party.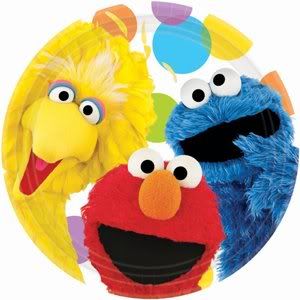 In a nutshell, kids love Elmo and the gang and it is probably the best way to make them happy and excited especially on their birthday bash. Try out Elmo / Sesame Street themed party this year and it will not disappoint you!
---
Leave a comment